3 ideas for custom-made wooden offices
22 septembre 2021
Setting up a space to work properly at home is sometimes complicated. Most of the time, we find ourselves on the dining table or in the kitchen when we don't have a proper desk. Well, those days are over! And we will help you find ideas that you will like.  
Above all, it's important to choose the right wood so that it meets all your expectations in terms of resistance or composition. We can find the tri-ply which is ideal for the construction of furniture, easy to work and has a very natural appearance. We also have glued laminated beech, as well as multiline beech, which in spite of their thickness are very resistant materials and require little maintenance. 
Once you've chosen the wood that best suits your project, all you have to do is create it with our easy-to-use configurator. Indeed, it will allow you to obtain the length and width of your choice while adding the cuttings you want. Moreover, you can add shapes if you want, and all this in a flash. 
But before you get started, a good dose of inspiration doesn't hurt. With the help of these three wooden desk ideas, let yourself be carried away and imagine your own custom-made wooden desk, ideal for working. 
1. A custom desk with pin legs
This idea is becoming more and more trendy for its rustic design aspect. The combination of materials allows you to obtain a simple and chic look that will enhance the room in which you decide to introduce it. You have many possibilities in terms of choice for the legs, colors, effect or material. Thus, you can create from A to Z your custom desk according to your desires. So why not opt for a simple wood/metal effect ? 
2. A desk with legs in three
This new look for a desk is relatively simple, but it has its charm. Indeed, whether it's with a touch of metal or wood, the result is incredible and we love it ! A little reminder for the older ones, it reminds of the trestles in the workshops but much nicer. You can customize it, paint it so that it fits perfectly in the universe of the room you have chosen to give it. It's also possible to make your desk directly with colored wood, for example by using colored medium (or wood mdf tinted in the mass). Its simple but solid rendering, will allow you to realize exactly a personalized and custom-made work space with a wooden desk.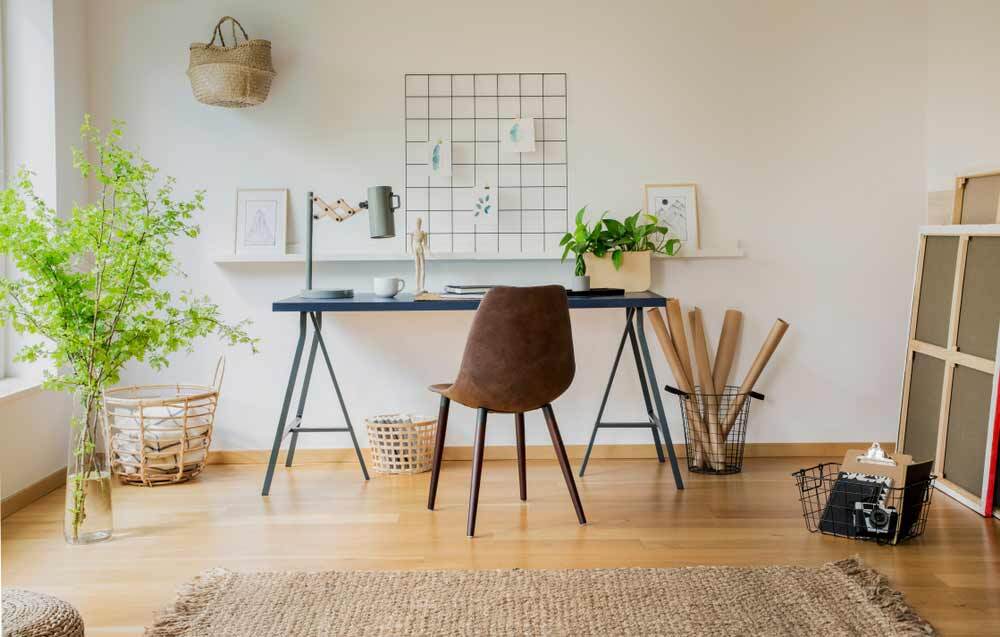 For a more practical and authentic result, you can combine your office with more advantageous means. For example, you can add a small drawer cabinet to have storage and make your space more enjoyable at a lower cost. You can also opt to add casters to the legs of your desk for mobility and space saving. Indeed, this technique will allow you to position your custom-made desk at the place of your choice, while having the possibility to move it easily if it disturbs you. 
Now that we've given you all the advice you need to create your own custom desk, all you have to do is configure the desk of your dreams using our configurator, which is as easy and quick to use as ever. 
Brigitte and the entire John Steel team can't wait to see your wildest creations 😊