Make custom wooden wall shelves
4 août 2021
Practical, decorative and easily made, wooden wall shelves are veritable best-sellers for kit furniture sellers. You are looking to make and cut wooden shelves on measure in your kitchen, office or living room ? No problem, John Steel is here for you ! Colorful and full of fun, Brigitte has made shelves in colored mdf (or medium stained) to bring good humor and joy to John's workspace.
Thanks to John Steel's configurator, in just a few clicks the wood fiber panels are cut to size. If you are more tempted by solid wood or compact laminate, with our custom cutting service everything is possible ! For the rest of the assembly with metal brackets, special wood screws and a few strokes of the screwdriver, discover how to make wooden shelves in a few minutes !
How to cut mdf wood shelves ? 
Small, medium or large shelves, when you have to cut it to your dimensions it's never easy. Not regular cutting, equipment that breaks down or worse, you have lent your DIY equipment ! Don't worry, I have the solution you need. Once I had my dimensions, I used the John Steel configurator. In a few minutes, my wooden shelves were done and all with a simple click : 
1. The choice of wood : weight resistant and UV protected, medium board is the star of wood ! And for a decor full of style, I cut these shelves out of medium stained in the mass.
2. Dimensions : for my project and after checking several times, these wall shelves were cut to the following dimensions : 930 mm x 240 mm (if you also want to have your wooden shelves cut via the configurator, be sure to convert your dimensions into millimeters).
3. Machining : as you may have noticed, the wooden panels have rounded corners. This option is available in the configurator toolkit and it's just one of many possibilities 😉
Make a wooden shelf until you install it ! 
Delivered, unpacked and prepared, that's it, the mdf wood panels are ready to make the wall shelves. Of course a little bit of equipment is needed for the rest of the process, but I assure you, the list isn't going to be long :
A screwdriver 
A set of special wood screws adapted to the thickness of the wood, in my case they are 3,5 mm diameter and 16 mm long. 
A varnish to protect the wood 
A brush with synthetic hair 
Shelf fasteners : for total customization, I chose metal brackets but it is possible to use other supports 
A set of so-called turbodrive screws to make it easier to attach the shelves to the wall 😁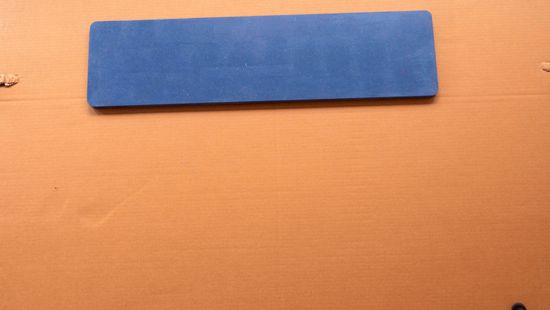 STEP 1 :  protect wall shelves with a varnish 
You may be installing wooden shelves in a living space, in an office or simply as a kitchen shelf, the wood is going to be exposed to more or less regular use. If you're already embarking on installing extra storge, you might as well make sure your DIY session is sustainable. That's why the application of varnish is recommended. 
Anti-stain and colorless, with a varnish of this type my shelves are ready to endure all the treatments that John reserves for it.
For this realization I used the same varnish as for the wooden planter, the varnish « the supreme » of the brand 1919 by Mauler. Easy to apply, I put 2 coats and it was done. 
⚠️ Depending on the varnish you use, the drying time and number of coats may way ! 
STEP 2 : Attach the shelf supports 
Now that the wood panels are protected, I can finally take you to the heart of the matter. For this part you will need: 
Special wood screws 
A tape measure 
A pencil 
A screwdriver 
Depending on the size of your shelves, you should be careful to balance the space between the supports. In my case, I placed the metal brackets (shelf support) at 12 cm from each edge. The best thing to do is to make sure you place the brackets at the right distance. 
Then, you have to make the marks at the screw locations to first make a pre-drill. With this trick, it will be easier to screw the brackets and especially depending on the wood, there will be no unexpected small cracks. 
STEP 3 : Installing the wooden shelves 
Since the shelves are made to be fixed to the wall, we can finally get to the heart of the matter. For this operation, I called on John who had a great time putting together his equipment. To tell you more, you'll need : 
A drill powerful eough to adapt to all types of walls (in our case the wall is brick) 
Drill bits that are also adapted to the wall to be drilled 
Screws and dowels for fixing 
A level to measure 
Are you ready ? Lets go for an express assembly of the shelves ! 
Firtst of all, you have to place the shelf where you want it. Using the measuring level, find the perfect alignment so that your shelves are perfectly balanced. When that balance point is found, make markings with a pencil to make sure you're drilling in the right place
Once you've finished the preparation, it's DIY time. Drill in hand, very quickly the 4 mounting holes are done ! Fast and efficient this John. Like a surgeon, he installs in the blink of an eye the dowels needed to install the shelves. Do you follow ? All that remains is to screw the wooden shelves to the wall.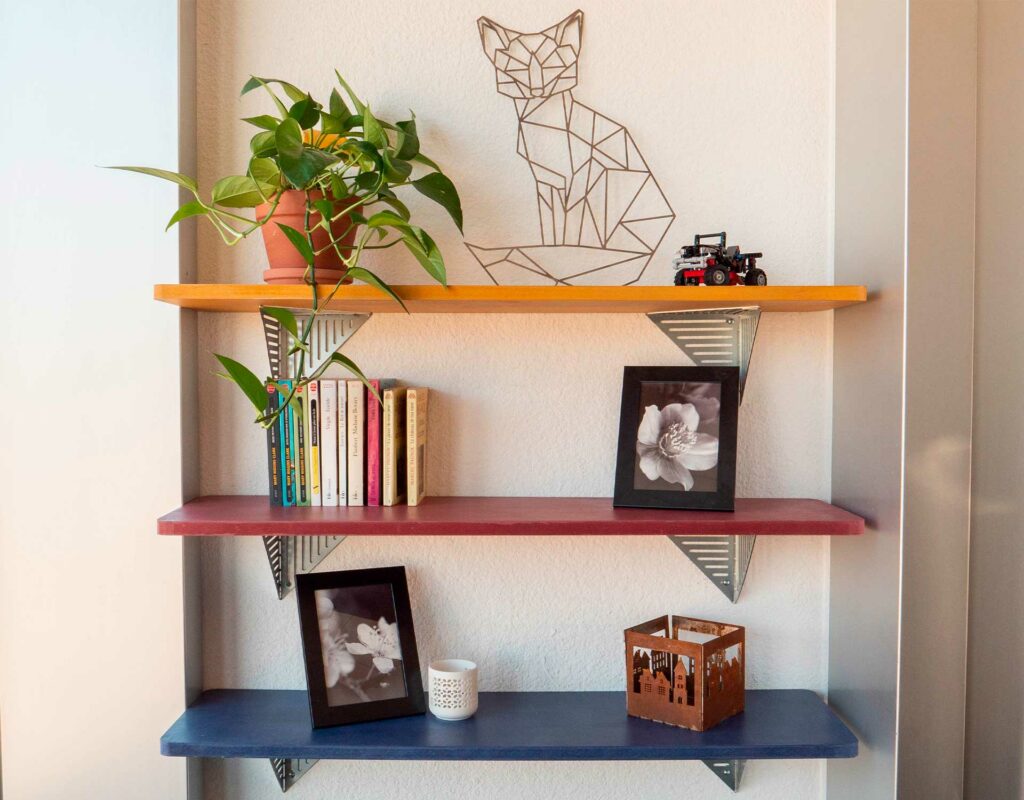 After a little cleaning and decorating, the decorative and design shelves are perfect for our reading corner ! Thanks to our custom wood cutting service, it's possible to quickly and easily furnish your interiors with custom wall decor. To discover step by step the configuration and installation of these wooden shelves, a video tuto would be perfect for you 🤩 
For those of you who follow the adventures of John Steel, this wooden creation is part of our special wood month. After the wooden planter, the shelves above, we have more surprises in store for you with 2 more creations ! Stay tuned and follow us on social media if you haven't already 👌
See you soon for new wood cuttings, 
Brigitte