How to make a custom DIY wooden side table !
25 septembre 2019
Ideal in an entrance hall, bedroom or living room, a wooden side table is a very on-trend piece of furniture. Usually placed against a wall, this type of furniture is the perfect decor for your home and can be teamed with a Scandinavian lamp or a fashionable houseplant. With several wood species available on John Steel for DIY month, Brigitte and John made a custom side table in  in solid beech laminate. So, are you interested?
Tutorial No. 2 of DIY month: making a wooden side table 🤗
The materials you need to make it:
🔧 A solid beech wood laminate panel cut to the right dimensions with our special custom wood cutting  virtual designer 🤙
🔨 4 x 70cm hairpin table legs
⛏️ 12 screws of a length suited to the side table's thickness (in our case: 5 x 30mm)
⚒️ An electric screwdriver (or manual for the bravest among you 😁)
Step 1: dimensions + cutting out the side table
To make your own side table, you must first decide how big it will be and the dimensions. In collaboration with Brigitte, the two of us went for a  solid beech glue laminate panel due to its natural, on-trend look for contemporary homes.
📌 Dimensions for this project: 800mm x 350mm. Depending on your preferences, rounded edges can also be added with a radius (measured in mm) that can range from large to small!
And now it starts to take shape 🛠️. At this point you need to plan how to protect your solid wood panel. If you're not too interested in the protection aspect but are more concerned about the general look and aesthetics, you can always apply some linseed oil to give this small item of furniture some extra stylishness. I decided to leave the wood looking natural for this project.
[metaslider id= »9632″]
Make sure you have fully charged the batteries for your electric screwdriver or get your old-fashioned manual screwdriver ready as it is now time to attach the legs. Depending on the desired effect, you can attach them directly to the edges or a little further back, for a more streamlined design.
📌 To ensure that the side table is balanced as perfectly as possible, you need to choose your hairpin legs based on the size of your wooden panel.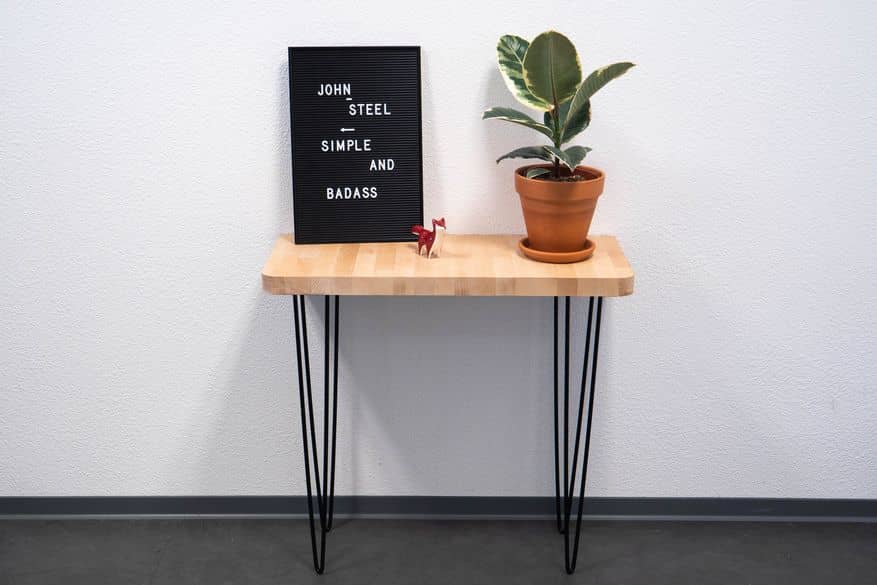 Make a DIY custom solid wood side table
 The four legs are installed in just two or three steps. All that remains is to place a couple of decorative items on it for something that is worthy of the best interior design magazines. It's quick and easy to make this solid wood side table thanks to our virtual designer. You too can make this item of furniture straightaway, but don't forget to share your photos 📸
Have a good superfast DIY session,
John