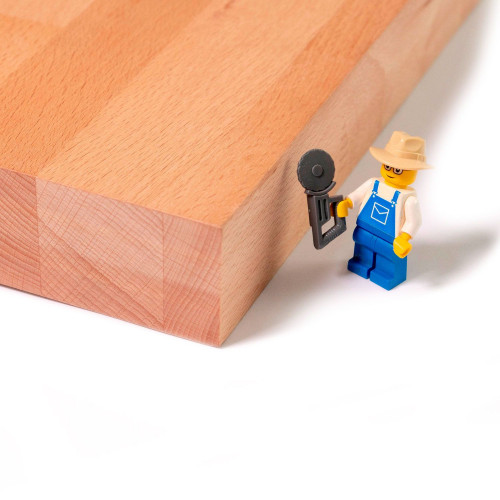 Beech glue laminate
Life's a beech, so get yourself some of these panels
-
Price according to your measurements ! 
Perfect for worktops
Very easy maintance
Mechanical resistance
Appearance
This is a light wood with a slightly pink sheen that is easy to work for small carpentry jobs such as making desk furniture or furnishings of any type. The overall appearance of beech glue laminate is therefore smart and natural. You can add a varnish or a wood stain to stain the wood any way you like.
Uses
Very often used to make utensils and decorative items, with this natural solid wood you can also make your custom worktop and create a kitchen to suit you.
Maintenance:
- To clean, use a soft cloth soaked with cleaning products
- Protect your panel by regularly applying a special wax or oil
Characteristics
Beech glue laminate is a natural and hard-wearing material. Glued laminate panels are made of several layers of solid wood bonded together along their length. The final product is fairly homogenous and there are very few knots visible on the different layers. Glued laminate panels respond to EN 13353 standards and are FSC certified.
Create your own glue laminate beech panel cut to your dimensions right now thanks to our quick and easy virtual designer.
Technical informations
Minimum dimensions

240 x 240 mm

Maximum dimensions

1800 x 960 mm