5 decorating ideas to enhance your interior and exterior
6 octobre 2021
You are searching for decoration inspiration ? Well, today is the day to share with you some ideas for your interior and exterior decoration. In this article, we will present you some beautiful wood & metal creations made by some of our Steelsters. It's also a good time to let your creativity run wild with these great ideas ! 
Aluminium clock
Stainless steel strips to decorate your garage

Decorative steel railing 

Wooden wall TV stand 

A metal accessory to hang an unusual object
How to make a modern aluminium clock ?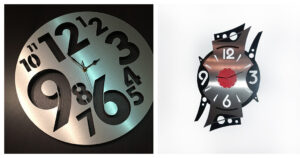 With a little imagination, you can make many clock styles. Two of our Steelsters sent us their metal clocks configured on John Steel from a DXF file. It's still pretty simple to create, the only constraint is that you have to remember to configure the little hole in the middle of the clock to hold the mechanism and hands. Here you go, all that's left to do is install it : the result is tip top ! 
Modernize your garage door easily and without spending too much money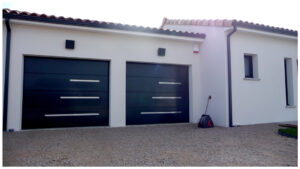 Like one of our Steelsters, you too can decorate your garage door to make it more modern. The final result is reat and fits perfectly with the style of your home. It's a simple job that requires a few cuts of brushed stainless steel, a metal with anti-rust properties, perfect for the outdoors. If you have a project, don't hesitate to use our online configurator. It allows you to customize your metal or wood pieces and add kinds of cutouts.
Configure my garage decorations
Build a new guardrail to modernize your interior

You want to change the railing of your mezzanine or the railing of your stairs to give them more charm and style ? Do like François and configure them yourself. You can use a DXF-file, it will allow you more freedom regarding the design of your metal fence. For these superb realizations, François choose raw steel, mainly for the robustness of the metal. Once put in situation the result is just wow !
Give your TV some style by adding a wooden wall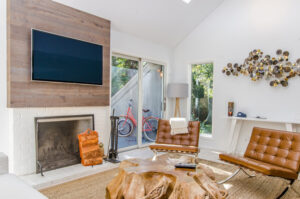 You're going to tell me I'm crazy, but this is a decorating idea interior designers are unanimous about. Adding a wood panel behind you TV will make it clearly stand out and add a natural touch to your wall … In addition, you can add some LED lights behind your screen to properly highlight the essence of the wood when it's darker in the room. To do this, you can use custom solid wood and select the species you like the most from our range.  
Decorate your house with unusual objects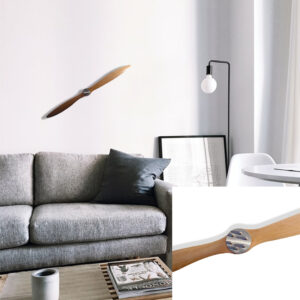 Object put in situation to realize the final result
Finally, we received the realization of David, one of our Steelsters. He wanted to highlight an old airplane propeller that belonged to his father 10 years ago and was left aside. It's very interesting and atypical object for interior decoration. In order to put it forward, David configured two decoration. In order to put it forward, David configured two stainless steel plates in te spirit of the original fixation of the aircraft. Once sanded and varnished with a colorless marine varnish, the propeller is ready to sublimate a wall panel and to remind that one day it turned in the air … 
With all these ideas, I think you have enough projects in mind. 
So check out our online configurator or send us a DXF-file to make all your ideas come true.
See you soon, for new decorating ideas !
Brigitte