How to design a terrace with a metal screen ?
28 juillet 2021
Do you want a change in your garden, balcony or outdoor space ? Do the prying eyes of some neighbors spoil your meals with family or friends on your terace ? Why not opt for a metal privacy screen ?
Make a privacy screen for a terrace :
To create a raw or openwork metal screen for your exterior, you can choose between different materials at John Steel. Aluminium, stainless steel or Corten steel are three possibilities that allow to make many original creations. Each one of them has it own assets that allow to combine the practicality and the aesthetics of these exterior decorative panels. A flawless resistance to climatic hazards : wind, rain, cold … In addition, they require very little maintenance and don't oxidize, apart from Corten steel which rusts completely. 
These panels will allow you to bring a visual confort thanks to their occulting effect and they will also participate in the harmonization of your outside. 
Corten steel, an original metal for exterior design :
With its original and natural shades, Corten steel blends in perfectly with the colors of a plant world, ideal for outdoor use as a view breaker or screen. 
The amazing aesthetic appearance of Corten comes from the natural oxidation of the steel. This gives it a unique iridescent rust coloration, which stabilizes after about 10 to 12 months. 
Corten steel is perfect to be placed outside on your terrace. It has the ideal characteristics to resist mechanical stress, extreme temperatures and weathering over the years. 
Custom Corten steel is also perfect for many outdoor design uses such as : low walls, braziers, planters, borders, decorations, fences … 
And with John's custom laser cutting, you can design your own 100% unique custom window shade or screen.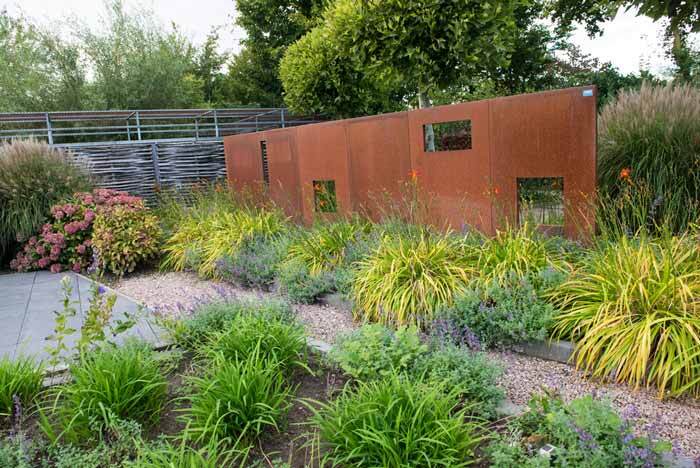 Don't forget to send us your most beautiful creations with John Steel, we will be happy to share them to inspire new Steelsters 😉
See you soon for more ideas for creations full of style,
Brigitte