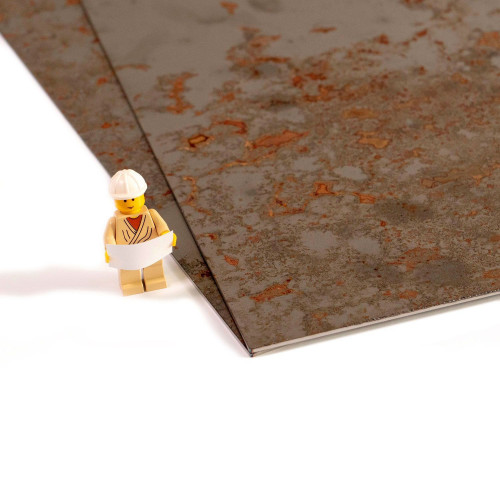 Corten steel plate
Light a fine wine, it improves with time!
-
Price according to your measurements 
Decorative
Can be easily worked
Perfect for outdoor use
If you have a DXF file,, upload it here..
Appearance
The steel corten (or korten or weathering steel) is a mild steel with rusty appearance. It is a so-called self-adhesive steel to which have been added a number of alloys such as copper, chromium, nickel and molybdenum, to increase the resistance to atmospheric corrosion.
The surface layer of self-protecting oxide is developed in the open air and can last 1 to 3 years before reaching stability. It is believed that the oxidation of the steel has reached maturation when it causes almost no more dirt or traces to the touch. The oxide layer is then strong enough not to stain the clothes.
The oxidation process can be accelerated by sandblasting and subsequent exposure to wet periods (watering) and dry periods, as often as possible.
Use
At the time of purchase, the plate of corten is called "raw rolling" (slightly rusty appearance), it will therefore be necessary to provide a period of oxidation before obtaining the desired look. For indoor use, it is ideally necessary that the oxidation has matured before installation. It is possible to apply a varnish or wax (the substrate must be perfectly dry and clean).
Characteristics
Corten steel is easily worked by shearing, folding, punching, or by screwed connections (use stainless steel screws - the Corten screws are non-existent).
The corten welds without difficulty (Mig welding: electrodes and wire specific Corten).
Possible traces of scratches of variable depth.
Technical informations
Minimum dimensions

40 x 40 mm

Maximum dimensions

2980 x 1480 mm

Color

Evolves with time

Thickness

Look

Scratches visible on both sides (*)

Utilisation

Défaut