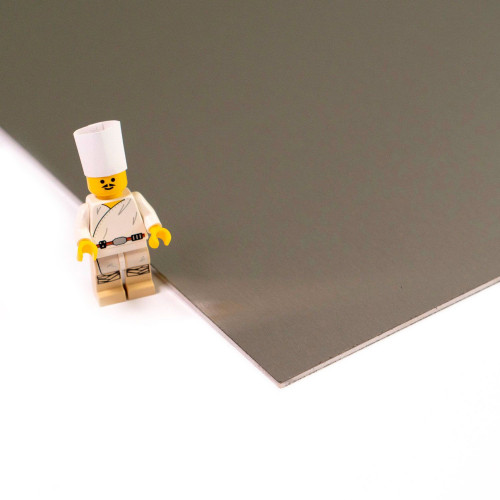 Brushed Finish 304 Stainless Steel
Elegant
Perfect for splashbacks
Modern look
Appearance
The fine 220 grade brushed finish on this stainless steel sheet gives it a consistent and very elegant visual appearance. The finish is particularly highly valued as a design material, whether for indoor or outdoor use. Stuck onto the risers, for example, it will give your wooden staircase a modern appearance.
Uses
Indoor
This stainless steel is often found in kitchens in the form of a stainless steel splashback or work surface, with a view to compliance with food hygiene regulations. It can also be used in the bathroom to create shelves, shower column back plates, spot lighting back plates, or to install as a splashback between the sinks and the mirror
Outdoor
The brushed 304 stainless steel sheet can be used to protect the ground or can be stuck onto a door as a means of protection, at the base of a wooden door, for example. You can also fix it to the wall to create a hatch frame.|
Characteristics
The 304L made-to-measure brushed stainless steel sheeting is protected with a film on one side. The brushed stainless steel sheeting can also be used outdoors thanks to the anti-rust properties of stainless steel.
The brushing of the stainless steel plates is performed on the front side, in a lengthwise direction. The protective PVC film is applied to the same side, to guarantee a perfect finish right up until the sheet is fitted. The reverse side has a rough appearance, and may have traces of scratches of varying depth.
To install a brushed stainless steel splashback, order a made-to-measure stainless steel splashback from us directly.
Technical informations
Minimum dimensions

40 x 40 mm

Maximum dimensions

2980 x 1480 mm

Thickness

1 - 1,5 - 2 - 3 - 4 mm

Look

Sober & elegant

Application

Restoration (Kitchen credenza) - bathroom - furniture protection

Defect

Visible scratches on unfilmed side (reverse) (*)

Reference

304L brushed stainless steel

Technical sheet

Technical sheet Stainless Steel

Une livraison gratuite
J+3 supplément express
J+8 livraison gratuite*
J+15 livraison gratuite* + 5% de réduction
*(hors affrètement spécial)

Des prix dégressifs
Une dégressivité des prix en fonction des matières et des quantités. Pour vous offrir les meilleurs tarifs

Vos achats en 3x sans frais
Pour vos achats de 100€ à 1500€, profitez du paiement en 3 fois sans frais... pour toujours plus de sur-mesure
Reviews about this product

Show attestation
Conforme à la description de la commande. Bel aspect d'inox brossé, les découpes sont nettes, les cotes sont respectées. Bravo, je recommande!

Petite pièce inox bien réaliséee. Satisfait.

qualite de la fabrication.

plaque inox entourage cheminée Inox brossé ep 3 mm conforme à la demande, du plus bel effet