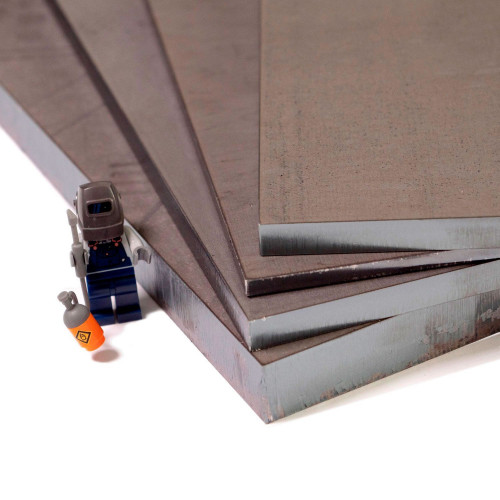 Blasted and greased steel
Pickled and oiled, ready for working
-
Price according to your measurements 
Very good for welding
Good mechanical resistance
Wear and shock resistance
If you have a DXF file,, upload it here..
Appearance
Obtained through pickling and with an oil layer applied for transport, blasted and greased steel can be instantly recognised by its greyish appearance.
Uses
It is mainly used for automotive and mechanical parts but also sometimes to reinforce doors and gates or to shore up a garden parasol base for example.
This is THE metal that all professional DIY experts use, those who know how to weld, and have equipment for handling metal and who have mastered how to work it!
Characteristics 
Depending on the thickness, this blasted steel sheet is able to withstand vehicles driving over it without being affected and is also wear and shock resistant. However, it does need galvanising or a coating (if you want to keep the colour) to stop it rusting.
With a very good mechanical resistance (tensile resistance of 35kg per mm2), this S355MC steel is very good for welding.
Technical informations
Minimum dimensions

40 x 40 mm

Maximum dimensions

2980 x 1480 mm

Thickness

Look

Possibility of scratches

Utilisation

Défaut