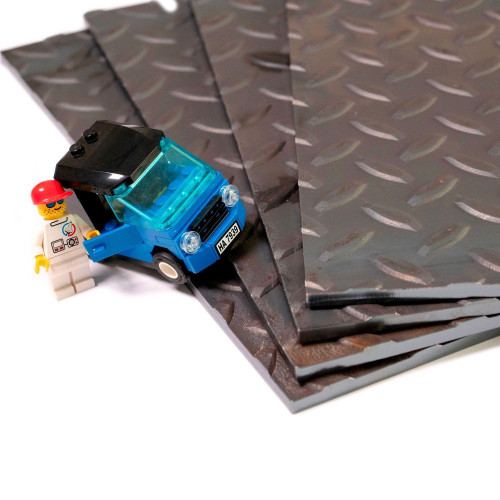 Raw Steel Tread Plate
Very good for welding
Good mechanical strength
Wear and shock resistant
Appearance
Particularly appreciated by designers looking for surface patterning, with its black finish the S235JR steel tread plate is an acclaimed material for decorative purposes.
Use
Prized for its strength and weight, non-slip unpolished steel is ideal for your floor plates, walkways and other welding work.
Non-slip steel is a metal that is prone to rusting, it is possible that slight traces of rust will be present on your cuts.
Characteristics
Its surface patterning gives it its non-slip properties, whether dry, wet or greasy. This non-slip steel is characterised by high shock and abrasion resistance as well as resistance to the passage of light vehicles.
We recommend applying a surface treatment as it will rust will rapidly.
 Thickness: pattern 7 mm / core 5 mm
Technical informations
Minimum dimensions

40 x 40 mm

Maximum dimensions

2980 x 1480 mm

Thickness

Core 5 mm + Tear 2 mm

Look

Black and raw

Application

Exterior (floor protection, hatches)

Defect

Scratches visible on both sides (*)

Reference

Non-slip S235 JR steel

Technical sheet

Technical Sheet S235 Stahl

Une livraison gratuite
J+3 supplément express
J+8 livraison gratuite*
J+15 livraison gratuite* + 5% de réduction
*(hors affrètement spécial)

Des prix dégressifs
Une dégressivité des prix en fonction des matières et des quantités. Pour vous offrir les meilleurs tarifs

Vos achats en 3x sans frais
Pour vos achats de 100€ à 1500€, profitez du paiement en 3 fois sans frais... pour toujours plus de sur-mesure
Reviews about this product

Show attestation
Super produit bien coupé aux dimensions fournies. l'acier est de qualité et l'article fourni présente un excellent rapport qualité prix . Livraison dans un délai court. Je recommande John Steel

Contact service client et conseils très bon. Qualité de fabrication (les côtes demandées sont respectées). Et le prix ! Je m'attendais à me faire allumer mais en fait ça, quand on fait de la série ça baisse vite le coût à l'unité.

Produit livré conforme à mes attentes, délai de livraison respecté.