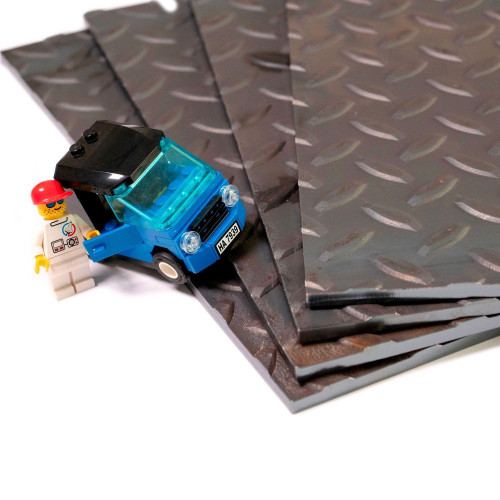 Raw Steel Tread Plate
Handbrake fan refrain!
-
Price according to your measurements 
Very good for welding
Good mechanical strength
Wear and shock resistant
If you have a DXF file,, upload it here..
Appearance
Particularly appreciated by designers looking for surface patterning, with its black finish the S235JR steel tread plate is an acclaimed material for decorative purposes.
Use
Prized for its strength and weight, non-slip unpolished steel is ideal for your floor plates, walkways and other welding work.
Non-slip steel is a metal that is prone to rusting, it is possible that slight traces of rust will be present on your cuts.
Characteristics
Its surface patterning gives it its non-slip properties, whether dry, wet or greasy. This non-slip steel is characterised by high shock and abrasion resistance as well as resistance to the passage of light vehicles.
We recommend applying a surface treatment as it will rust will rapidly.
 Thickness: pattern 7 mm / core 5 mm
Technical informations
Minimum dimensions

40 x 40 mm

Maximum dimensions

2980 x 1480 mm

Look

Scratches visible on both sides (*)