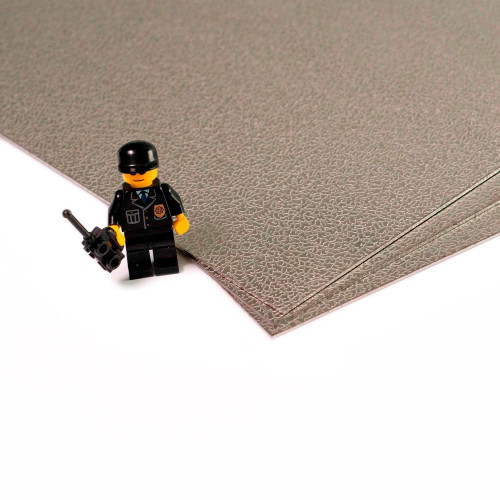 Leather textured stainless steel
Textured appearance
Supplied with a protective film
Rigid
Appearance
Its natural leather etched relief makes it the ultimate decorative stainless steel. Its shiny appearance will reflect the colours in your surroundings with charm. Because it does not gather dust, it will be just as perfect on your ceiling as in the difficult to reach spots behind a wood-burning stove.
Uses
Often used in elevators, you can also make it a decorative product in your home. Less fragile than stainless steels with a smooth texture, leather textured stainless steel can be used as a place mat, on the bottom of doors or even in the bathroom. Perfect for covering furniture, doors and walls.
Characteristics
With stainless steel 304 in a decorative leather texture, you can enjoy the multi-faceted benefits of stainless steel. Combining heat resistance and corrosion resistance, with this material there will be no limits placed on your creativity.
Technical informations
Minimum dimensions

40 x 40 mm

Maximum dimensions

2480 x 1230 mm

Thickness

1 mm

Look

Smooth, shiny leather texture

Application

Interior decoration (elevator or furniture trim) - Exterior

Defect

Visible scratches on unfilmed side (reverse)(*)

Reference

Stainless steel 304L leather texture

Technical sheet

Fiche technique Inox

Une livraison gratuite
J+3 supplément express
J+8 livraison gratuite*
J+15 livraison gratuite* + 5% de réduction
*(hors affrètement spécial)

Des prix dégressifs
Une dégressivité des prix en fonction des matières et des quantités. Pour vous offrir les meilleurs tarifs

Vos achats en 3x sans frais
Pour vos achats de 100€ à 1500€, profitez du paiement en 3 fois sans frais... pour toujours plus de sur-mesure
Reviews about this product

Show attestation
Top délai et livraison et précision !