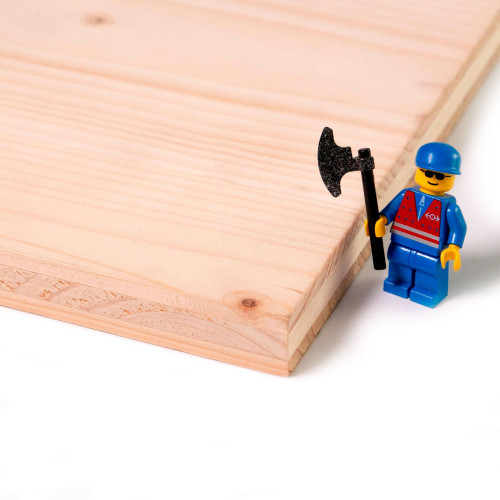 3-plywood larch panels
You must be having a larch!
-
Price according to your measurements 
Mechanical resistance
For both indoor and outdoor use
Natural appearance
Appearance
3-ply larch panels are made from natural wood that is stronger and more durable than pine. Larch has an orangish yellow colouring which makes it look very warm and natural.
Uses
You can use these 3-ply larch softwood panels for any external projects such as weathercladding, shutters or urban furniture. You are advised to use a protective treatment to preserve the original appearance of these panels over time.
An untreated panel will turn grey (this is a natural discoloration of this type of wood).
Inside, you can use custom-cut 3-ply larch panels to adjust the layout of your rooms or create very warm designer pieces. There are multiple uses for 3-ply solid wood panels, for example as wall cladding or doors and you can even use them to construct stands for shows,
Maintenance:
- To clean, use a soft cloth soaked with cleaning products
- Protect your panel by regularly applying a special wax or oil
Characteristics
Practical and easy to transform depending on your needs, 3-ply larch panels are made from 3 thicknesses of solid wood whose layers are bonded together. Made using the same species of tree, three-ply wooden panels are manufactured according to the EN 13353 standard and are FSC certified
 Create your own custom softwood three-ply cut panel using our online virtual designer.
Technical informations
Minimum dimensions

240 x 240 mm

Maximum dimensions

1800 x 1200 mm

Color

Natural

Quality

Wood A/B