Take your dimensions and convert them to millimeters
#BeCarefull: Our laser only speaks in millimeters and he is stubborn, so be nice to him. He has so much work to do...
In John's factory, everything is measured in millimeters!
From the smallest pieces (4 cm so 40 mm) to the largest ones (2.99 m so 2990 mm), be vigilant when placing your order and write all your measurements in the language of our fabulous laser.

For exemple, you just measured your range hood backsplash which made 60 cm wide and 70 cm height: enter respectively 600 mm and 700 mm in the configurator.

How to convert in millimeters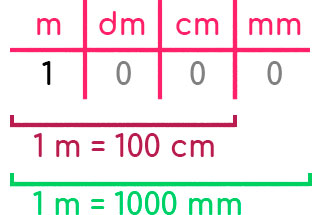 The conversion of your values is very simple: 
If you measured in meters, shift the decimal to the right 3 times (or multiply by 1000) : 1,000 m = 1 000 mm.
If you measured in centimeters, shift the decimal to the right once (or multiply by 10): 10,00 cm = 100,0 mm. 
| m | cm | mm |
| --- | --- | --- |
| 0.04 | 4 | 40 |
| 0.05 | 5 | 50 |
| 0.10 | 10 | 100 |
| 0.20 | 20 | 200 |
| 0.30 | 30 | 300 |
| 0.40 | 40 | 400 |
| 0.50 | 50 | 500 |
| 1.00 | 100 | 1000 |
| 1.10 | 110 | 1100 |
| 1.20 | 120 | 1200 |
| 1.30 | 130 | 1300 |
| 1.40 | 140 | 1400 |
| 1.50 | 150 | 1500 |
| 2.00 | 200 | 2000 |
| 2.50 | 250 | 2500 |
| 2.99 | 299 | 2990 |
Examples of DIY
Dimensions in meters
Dimensions in centimeters
Dimensions in millimeters
Range Hood backsplash

a = 60 cm

b = 70 cm

a = 600 mm

b = 700 mm

Traditional Kitchen backsplash

a = 2.7 m

b = 0.9 m

c = 1.2 m

d = 0.4 m

e = 0.6 m

f = 0.4 m

a = 270 cm

b = 90 cm

c = 120 cm

d = 40 cm

e = 60 cm

f = 40 cm

a = 2700 mm

b = 900 mm

c = 1200 mm

d = 400 mm

e = 600 mm

f = 400 mm

Design clock
a = 20 cm
a = 200 mm