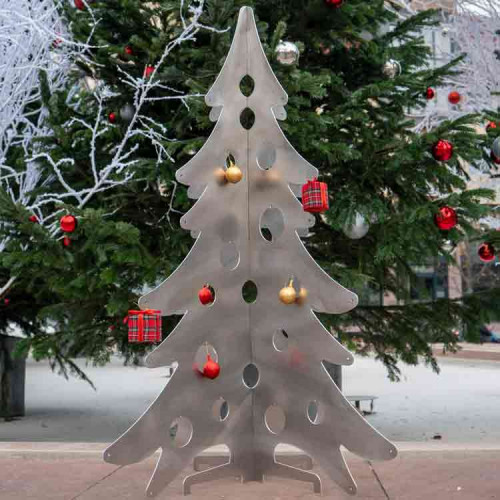 Metal Christmas Tree
Brilliant and amazing!
Easy to install
Reusable
The largest of the fir trees (115 cm)
It's almost Christmas and you still haven't chosen your Christmas tree? No worries, we have this awesome Metal Christmas tree made of aluminum to sparkle your room.
We've put some holes in it, so you can attach your most beautiful Christmas decorations on it. Our aluminum Christmas tree is very on-trend and it doesn't let any fir needle! Ideal to spend celebrations way from your hoover but near your family.
A metal Christmas tree, light and reusable
As we love simple things, this Christmas tree is so easy to set up. It is very light and super stable thanks to the two sides that fit together. It is so resistant, you will keep this tree for years. Even if you have pets or children, it will never let you down. Cherry on the cake, this magnificent Christmas tree is maintenance-free. Isn't this really awesome?
A compact Christmas tree
This tree sets up and dismantle as fast as an instant pop up tent and it takes no place. Both sides are completely flat and allow you to store your Christmas tree anywhere: behind the cabinet, under the bed or in the cellar until the next season.
An original office Christmas decoration
This metal Christmas tree matches everything. It perfectly decorates your living room but fits also in a more professional environment. Looking for Christmas decorations for your company?
Don't hesitate and chose this fir tree. It will be perfect to create a welcoming entrance in your hall for your clients and employees.
Technical informations
Height

115 cm

Width

88 cm

Depth

88 cm

Thickness

3 mm

Material

Aluminium