How to naturally protect a wooden panel?
25 septembre 2019
Protect your wood for a longer lifespan, that's the mantra. So you have a wooden worktop in your kitchen and you're looking for a way to keep it looking good for as long as possible? Brigitte will tell you her special secret for protecting a solid wood or untreated wood worktop naturally.
With the amount of products on the market, it isn't always easy to find an alternative to varnish, waxes and other lacquers that often contain chemical agents that are not very environmentally friendly. But don't stress, I have a natural solution for you that is both environmentally friendly and cost effective: linseed oil.
What is linseed oil?
Made from flax seed, this oil is extracted via a natural process that maximises its protective qualities. Ideal for any kind of wood cladding, linseed oil is the ultimate environmentally friendly protective coating and it will also save you money. #soamazing
💧 Protects against moisture,
☀️ Protects wood against UV light
🐛 Protects against dust and insects
✨ Makes wood shine
Linseed oil is an amazing, environmentally-friendly protective coating and you can use it on lots of different things such as oiled wood floors or exterior shutters. For designer Steelsters, you can also use it for an ageing effect on new wood panels for an extra touch of class.
Let's get back on topic now! So now you all want to know how to really protect your wood panels.
First of all I advise you to apply two layers so you ensure your worktop is protected for a long time. If you want to apply a few more layers after to get the shade of wood you really want, go right ahead, there is no risk of explosion. #everythingispossibleeverythingcanbedone
Now pick up your brushes, it's Picasso time ❗

How to apply linseed oil to a wood panel 🤔
1 – Clean the worktop with a very fine sandpaper (150/180 grain) partly so the oil adheres well but mainly so you start with a clean and sanitary worktop.
2 – Dip the brush in the oil. Please note: you must always paint in the direction of the wood grain and ideally you shouldn't stop in the middle but should apply nice even strokes. 🖌 
3 – For top results. wait 12 to 24hrs between each coat ideally.
4 – Afraid you've lathered it on too thickly? No worries, you can always wipe off any excess oil that hasn't been absorbed using a cloth. It might not seem like it matters, but otherwise your wood will stay sticky, which is not ideal!
5 – And you're done! It's as simple as that! Now, to avoid having to start everything from scratch again, you should repeat the process every 6 months to a year.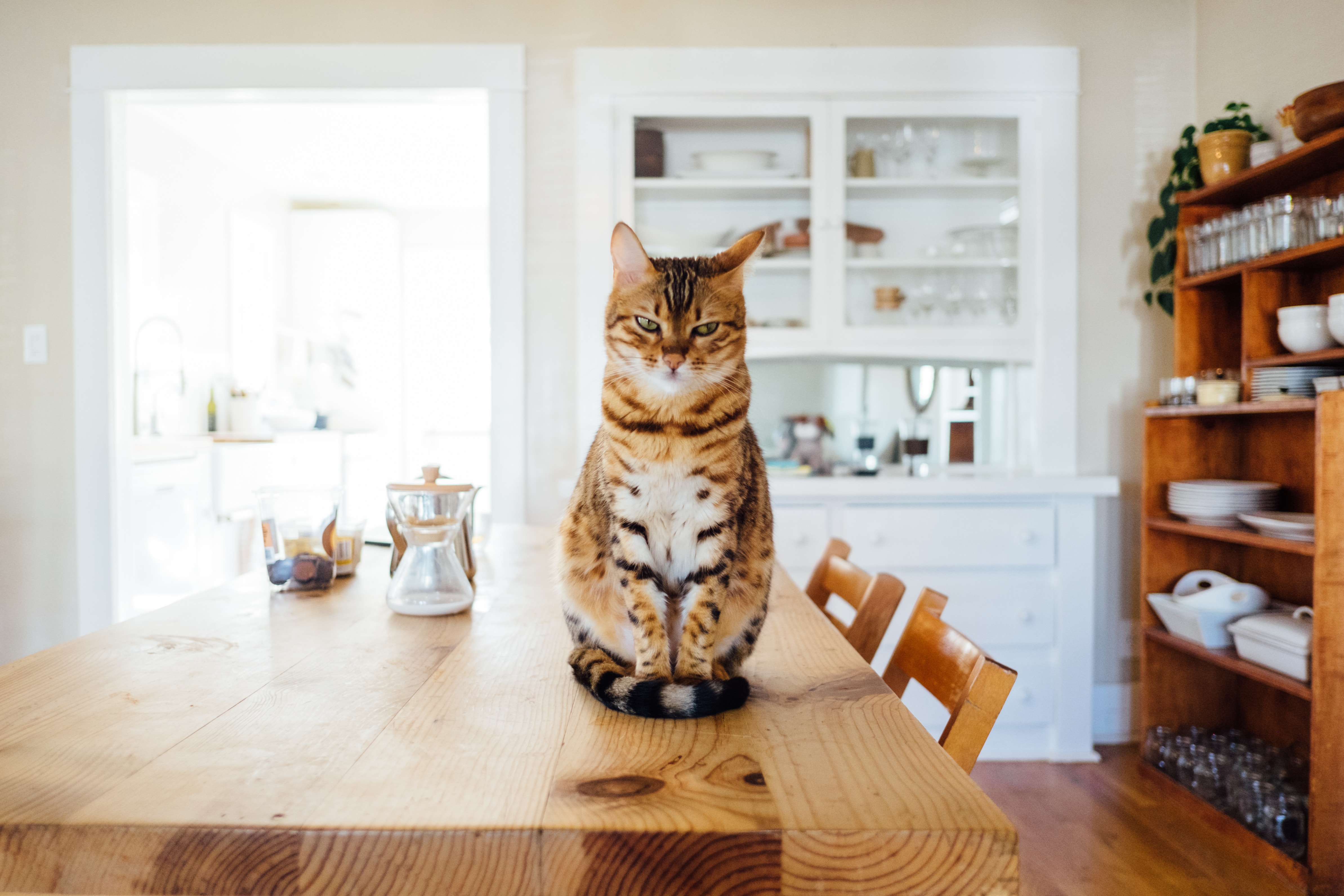 A natural and simple protective coating, even your cat won't believe it 😂
A little tip from one Steelster to another: if you want to shine up just a single worn or damaged area, you don't have to redo the lot. Just sand that part with some sandpaper and apply a fresh coat of linseed oil to it.
See you soon for new tips,
Brigitte