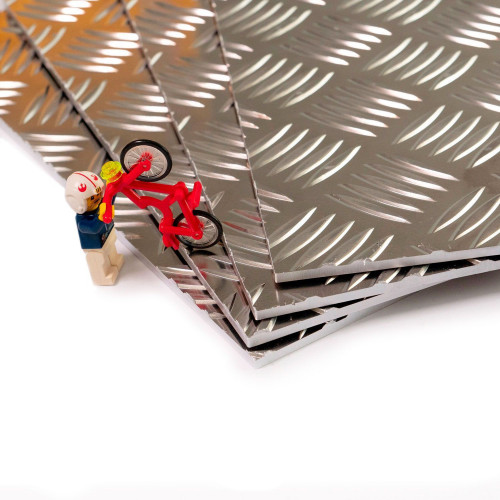 Raw Aluminum Diamond Tread Plate
Nothing is lost, nothing is created, everything is cut!
-
Price according to your measurements 
For outside use
Robust
Non-slip
If you have a DXF file,, upload it here..
Appearance
The non-slip aluminium combines lightness and robustness, and has a non-slip surface. With its raw appearance and the presence of drops to avoid slipping, it can fade in a damp environment or outside thanks to an anti-rust treatment which also provides its matte colour.
Use
Because of its high resistance, it will be perfect as a runner plates. If you are looking for a custom metal plate that can act as walkways, stairway covers or garden slabs, the raw non-slip aluminium is the metal to choose. 
Characteristics
This raw aluminium combines lightness, robustness and in addition has a non-slip surface ideal in rain. It does not require anti-rust treatment, but may fade in damp or outdoor environments. The non-slip aluminum sheets are made of 5 drops in checkers, 5/4 mm.
Technical informations
Minimum dimensions

40 x 40 mm

Maximum dimensions

2990 x 1490 mm

Thickness

Look

Scratches visible on both sides (*)

Utilisation

Défaut