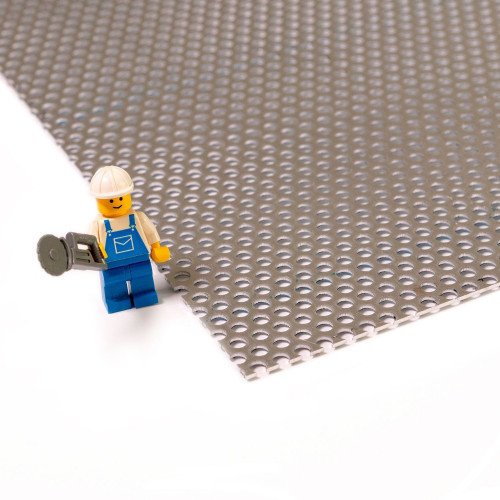 Perforated aluminum 1050A
Shock resistant
Doesn't rust
Modern look
Appearance
Raw and rough, perforated aluminium sheet is a must have for industrial decor.
Use
AW1050A perforated  aluminium is perfect for railings, gate frame decoration or as a wall mounted tool holder. Its regular perforations make it an ideal decoration material while allowing a flow of air.
Characteristics
Perforated aluminium is flexible and lightweight: 2.2 kg/m2. Not needing any rustproofing, this pierced aluminium sheet is easy to machine and has good corrosion resistance in non-marine environments.
The perforations are round, 5 mm in diameter, arranged in a T, and the spacing is 7 mm.
Technical informations
Minimum dimensions

40 x 40 mm

Maximum dimensions

1980 x 980 mm

Thickness

1,5 mm

Look

Scratches visible on both sides (*)

Application

Raw and perforated

Defect

Scratches visible on both sides (*)

Reference

Aluminium 1050A perforated

Technical sheet

Technical Sheet Aluminium 1050A

Une livraison gratuite
J+3 supplément express
J+8 livraison gratuite*
J+15 livraison gratuite* + 5% de réduction
*(hors affrètement spécial)

Des prix dégressifs
Une dégressivité des prix en fonction des matières et des quantités. Pour vous offrir les meilleurs tarifs

Vos achats en 3x sans frais
Pour vos achats de 100€ à 1500€, profitez du paiement en 3 fois sans frais... pour toujours plus de sur-mesure
Reviews about this product

Show attestation
Super bien emballé et belles finitions