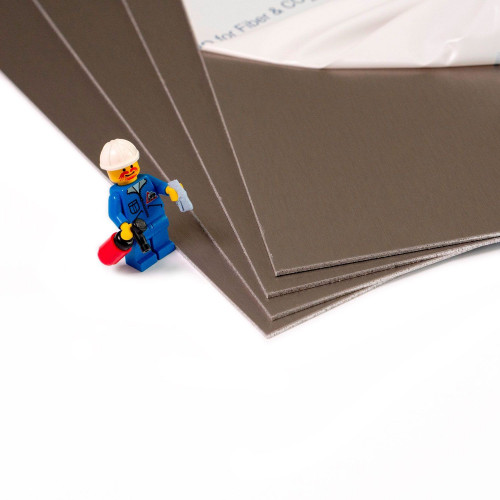 Anti-fingerprints brushed aluminum
Easy to clean
Regular brushed appearance
Can be used on facades
Appearance
The anti-fingerprints brushed aluminum combines the lightness of the aluminum and the aesthetics of the brushed stainless and in addition to that thanks to a special treatment, it no longer will hold finger prints. 
Use
The star of high-pressure applications, anodized anti-trace aluminium is ideal for your kitchen, bespoke hoods, kitchen and door baseboards but also door push plates.
Characteristics
This aluminium has a 220 grain brushing and a self-adhesive protective film on 1 side. It resists corrosion, abrasion and neutral detergents, thanks to an anodized protective layer. Its surface is antistatic and non conductive (it should not be manufactured).
This Plate is protected on one side.
Technical informations
Minimum dimensions

40 x 40 mm

Maximum dimensions

2980 x 1480 mm

Thickness

1,5 mm

Look

Brushed and matt

Application

Interior (kitchen credenza, furniture design)

Defect

Visible scratches on the non-filmed side (back)(*)

Reference

Aluminum 5005H14 anti-stain brushed

Technical sheet

Technical Sheet Aluminium 5005

Une livraison gratuite
J+3 supplément express
J+8 livraison gratuite*
J+15 livraison gratuite* + 5% de réduction
*(hors affrètement spécial)

Des prix dégressifs
Une dégressivité des prix en fonction des matières et des quantités. Pour vous offrir les meilleurs tarifs

Vos achats en 3x sans frais
Pour vos achats de 100€ à 1500€, profitez du paiement en 3 fois sans frais... pour toujours plus de sur-mesure
Reviews about this product

Show attestation
RAS - Produit conforme et envoi rapide

découpe au top, livraison rapide et soignée ... comme d'hab.... Parfait

Tres bon produit Travail serieux Livraison impaccable

Super pro, beau produit (alu brossé, belle finition, livraison rapide. Je recommande.

Livrée bien emballée et dans les temps ma plaque alu est en bon état, reste à enlever le film PVC protecteur