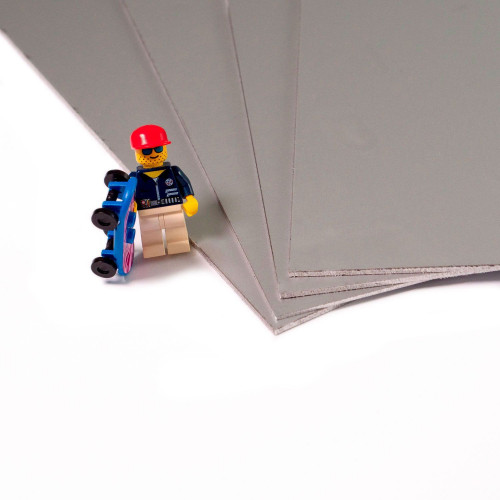 Anodized aluminum, soft texture 5005H14
Will not rust
Soft and aesthetic
Can be used on facades
Appearance
Shiny and radiant, anodized soft texture aluminium 5005H14 is a must in signage. Soft and regular to the touch, its milky surface is perfectly uniform and protected by a film.
Use
Smooth and durable, it is the material used by designers and is often found on high-end computers. It will prove to be ideal for your furniture or making your business ID cards.
Characteristics
Anodized aluminum is resistant to corrosion and abrasion. It is as strong on the inside as on the outside (so it is not afraid of weather).
Technical informations
Minimum dimensions

40 x 40 mm

Maximum dimensions

2980 x 1480 mm

Thickness

1,5 - 2 mm

Look

Soft texture

Application

Decoration - Renovation - Personalized

Defect

Visible scratches on the non-filmed side (back)(*)

Reference

Anodized aluminum 5005H14

Technical sheet

Technical Sheet Aluminium 5005

Une livraison gratuite
J+3 supplément express
J+8 livraison gratuite*
J+15 livraison gratuite* + 5% de réduction
*(hors affrètement spécial)

Des prix dégressifs
Une dégressivité des prix en fonction des matières et des quantités. Pour vous offrir les meilleurs tarifs

Vos achats en 3x sans frais
Pour vos achats de 100€ à 1500€, profitez du paiement en 3 fois sans frais... pour toujours plus de sur-mesure
Reviews about this product

Show attestation
J'ai fait faire des plaques avec des découpes particulières (des extrusions rectangulaires sur les bords et des trous). Tout était précis, impeccable.

Dommage que des épaisseurs plus importantes ne soient pas disponibles pour l'aluminium.

produit impeccable livraison rapide

J'ai acheté des plaques en aluminium pour faire une plaque de propreté pour des interphones et le résultat est bluffant !! Incroyable qualité et prix très accessible !!!

Matériau conforme. Livraison rapide. Très satisfait