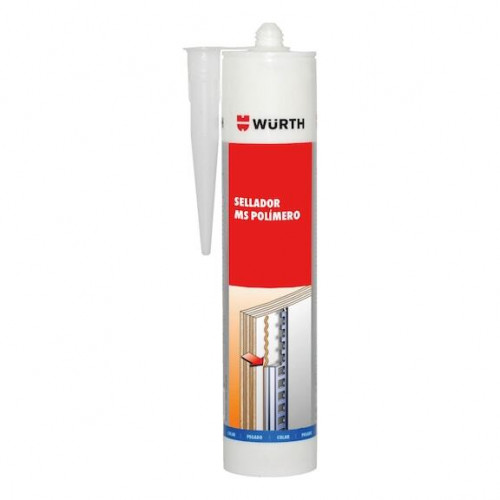 Heavy Duty Sealant Glue
Colourless and elastic
Odourless and multi-purpose
Useable on all types of surfaces
Need a sealant? Get even more bang for your buck! This sealant is both a sealant and a glue. It's made 100% from MS polymers and is ideal for glueing and joints.
Odourless. Easy extrusion (manual or compressed air gun). Treated with fungicides. Solvent, isocyanates, halogen free. Can be painted with a water base paint. No join marks on natural stone. Applications: Powder coating: 20 to 150° Structural sealing in vibrating applications. Sanitary seals, marble, granite, metal, glass, wood. Glueing of all materials on all substrates (even synthetic). Good chemical resistance to water, aliphatic solvents, acids.
Adhesive capacity of 180 kg/10 cm2.
White 290ml cartridge, with cap.
Weight: 0.54 kg.
Operating temperature: +5 to +30 °C.
Colourless and elastic
Odourless and multi-purpose
Useable on all types of surfaces
Technical informations
Weight

0,54 kg

Color

White

Volume

290 ml

Fixing capacity

180 kg/10 cm²

Une livraison gratuite
J+3 supplément express
J+8 livraison gratuite*
J+15 livraison gratuite* + 5% de réduction
*(hors affrètement spécial)

Des prix dégressifs
Une dégressivité des prix en fonction des matières et des quantités. Pour vous offrir les meilleurs tarifs

Vos achats en 3x sans frais
Pour vos achats de 100€ à 1500€, profitez du paiement en 3 fois sans frais... pour toujours plus de sur-mesure
Reviews about this product

Show attestation
La possibilité de correspondre, le retour rapide des conseils apportés. L'accessibilité du site.

Arrivée beaucoup plus rapidement que prévu, super bien emballé, les découpes sont parfaites, manquait juste des bras pour poser cette plaque en Inox de 3m de long. Je ne regrette pas mon achat du tout, la prochaine fois je me lance avec un fichier DXF directement !

tip top travail soigné et livraison expresse