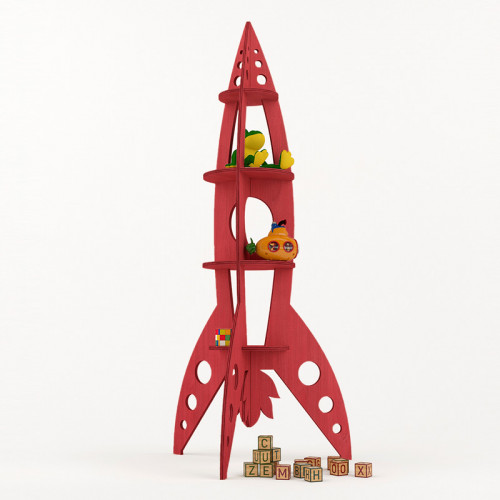 Custom-made red wooden bookcase rocket
Easy to assemble
Sustainable over time
Suitable for children
Easy to assemble wooden bookcase
Our wooden bookcase is designed for easy and quick assembly, thus optimizing the functionality and organization of your books and decorative objects. Its lightweight, modular structure allows for simple installation, instantly transforming any empty space into efficient, well-organized storage space.
Colorful and aesthetic wooden rocket
Our aesthetically pleasing red colored medium wooden rocket is a centerpiece that invites imaginative exploration while beautifying the space. Made from premium wood, this rocket features vibrant colors and an attractive design that will capture everyone's attention.
Durable material over time
MDF wood is a durable material, essential for responsible consumption and a greener future. They resist wear while maintaining their aesthetics and functionality, reflecting environmental awareness.
Easy to assemble
Sustainable over time
Suitable for children
Technical informations
Height

135 cm

Width

70 cm

Depth

70 cm

Weight

3 kg

Thickness

8 mm

Material

VALCHROMAT® red MDF wood

Certification

PEFC / FSC

Technical sheet

Notice d'installation - Fusée

Une livraison gratuite
J+3 supplément express
J+8 livraison gratuite*
J+15 livraison gratuite* + 5% de réduction
*(hors affrètement spécial)

Des prix dégressifs
Une dégressivité des prix en fonction des matières et des quantités. Pour vous offrir les meilleurs tarifs

Vos achats en 3x sans frais
Pour vos achats de 100€ à 1500€, profitez du paiement en 3 fois sans frais... pour toujours plus de sur-mesure