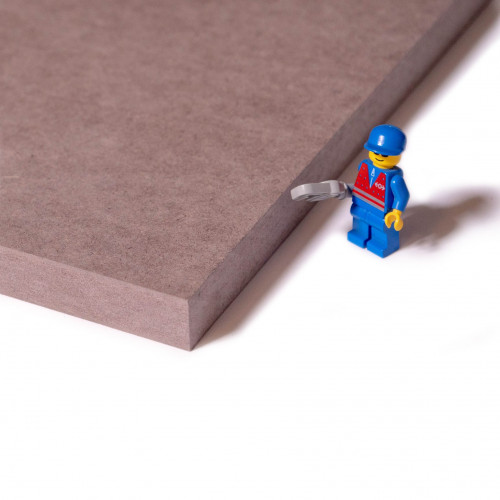 Grey MDF Sheet
Silver surfer? No, pepper and salt!
-
Price according to your measurements 
Great mechanical strength
Easy to renovate
No borders needed
Appearance
Grey mdf sheet are medium-density fibreboard panels that are coloured all the way through, and are much like colored MDF. All the sides are the same so you don't need to add a border.
There may be some small imperfections (areas that are coloured to a greater or lesser extent). This is due to the color absorption capacities of the wood and gives it a very natural look.
Uses
You can create designer home furniture that matches your interior design scheme. Grey dyed in the mass MDF panels are mainly used to make furniture (kitchens, bathrooms), cladding, partition walls, wood floors and much more.
Maintenance:
- Protective coating strongly advised (protective varnish or oil)
- Clean with a soft cotton cloth
- Do not use solvents or abrasive products
Characteristics
Light grey mdf have the same characteristics as MDF except the fact that they are stained in the mass, which is superior to stained MDF. These fibreboard panels are very easy to repair all the same; just a little sanding and the application of a finish will restore their original appearance. 
Dyed in the mass mdf is more resistant to bending and tensile stress than colored MDF. Water-repellent and non-toxic (use of organic dyes) all wood-stained fibreboard panels have FSC certification.
Technical informations
Minimum dimensions

240 x 240 mm

Maximum dimensions

1800 x 1200 mm

Color

Light grey